An apple a day keeps a doctor away" is the way to keep humans at the helm of  good health. Similarly, "a regular car service keeps the trouble away", this saying is perfect to reiterate  the need and requirement for regular car service. However, there are many who aren't aware of what is included in a proper car service. Therefore, to give them  enlightenment of knowledge about what all is included in a proper car service we have jotted all the nitty gritties that is included in a car service in this segment. 
Some of the solutions for Car Service
Oil and Filter Change: An oil and filter change is the most important part of car service. It helps your car  run more smoothly and boost its total efficiency. If you enter into a good car service shop or a garage, they make sure that a complete inspection is done to evaluate all the vital parameters of the car with an objective to determine the magnitude of damage in the car. 
Basic or Interim Service: Each time you'll visit a garage or car service centre, you should always insist for a whole body check up that does not only  include a visual inspection followed by oil and filter change, It should also cover the testing of other vital parts of the car like brakes, steering fluid and more likewise. A good garage or car service station will not only restrict themselves to these testing and checking, but they also won't hesitate to add some recommended additional work to improve the overall working of the vehicle.
Full Service: Full car service includes the aforementioned basic service and an extra 15 to 30 additional checks on the car's competency along with additional maintenance if required. 
Major Service: This one includes every nitty gritties performed in a full service, but along with that it'll include a change in spark plugs,  fuel filters and it also takes into account other wear and tear required to the car. 
Difference between a service and a MOT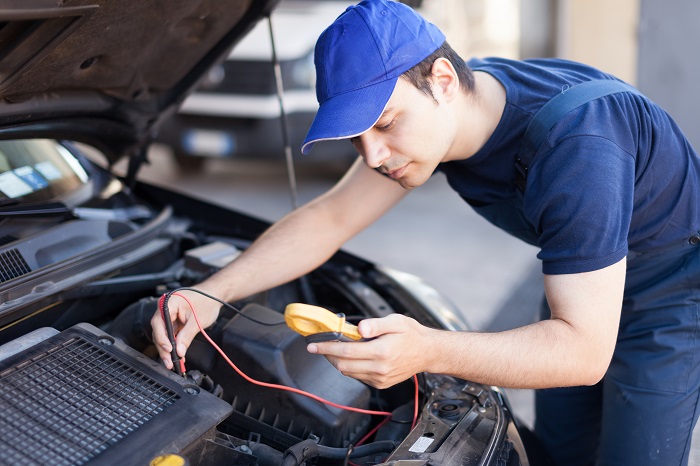 MOTs are the full inspection of a car inside out. However, during the process of MOT, the garage people or servicemen aren't allowed to take out any part of the car. It is a test that simply makes sure that the vehicle is in good shape and safe to be out on the road. However, a car service is a much deeper and thorough inspection that is conducted on the vehicle to make sure  that the working of the car is as perfect as it could get. In the process of a service, the garage man or serviceman is allowed to either change a part of the car or engine or mend it whichever is best suited. 
What is the duration of a Car Service?
A car owner should be aware of what is the correct time to take the car for aservice. The time duration of a car service completely depends on the extent to which does the car need to be serviced. If the car is taken for an interim service or a full service, it usually takes around two to three hours to perform the complete service. However, the time duration might vary depending on what are the parts  are required to get changed or mended in the vehicle. Once a mechanic or a garage man or a serviceman conducts a thorough inspection of the car, only then the actual time duration can be decided on the service. Similarly, the costing also depends on these features and also varies from the model of the car. 
A car service helps in maintaining every nook and cranny of a car in order to make it last long with good service and mileage.